Cardiac rehabilitation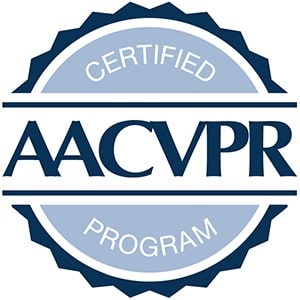 Liberty Hospital is proud to have the first cardiac rehab program in the Northland certified by the American Association of Cardiovascular and Pulmonary Rehabilitation. Certification ensures our participants and the community that the program has undergone a rigorous review process every three years and meets or exceeds the nationally-established requirements for cardiac rehabilitation.
The Liberty Hospital Cardiac Rehabilitation Program is not "just an exercise program," but a complete and customized outpatient health and wellness management program. Cardiac Rehab establishes an individualized plan to help you:
regain strength prevent your condition from worsening
reduce your risk of future heart problems
improve your overall health and quality of life
The medically supervised rehabilitation program encourages you to rebuild your life around overall health and wellness. It's about possibilities, not limitations. As you get stronger and learn how to manage your condition, you'll likely return to a normal routine, along with your new diet and exercise habits.
The cardiac rehab staff is composed of cardiac rehabilitation nurses, exercise physiologists, and respiratory therapists, all under the supervision of a cardiologist. The program provides education on the heart healthy lifestyle, safe exercise training, and counseling to cope with emotions and stress.
Who qualifies for cardiac rehabilitation?
The cardiac rehab program is for anyone who has experienced a heart event (heart attack, stent placement, angioplasty, stable angina, heart bypass surgery, heart transplant, valve repair or replacement, and heart failure).
Phases of cardiac rehab
Inpatient
Patients are introduced to the cardiac rehabilitation program during the hospital stay. Some patients will have supervised exercise (walking in the hallways) with the physical therapy staff to begin recovery. The patient will be introduced to the cardiac rehab program and have education provided on the risk factors for coronary artery disease, a heart healthy diet, and how to start a low level activity/exercise program. Patients receive visits prior to discharge by an inter-disciplinary team consisting of a cardiologist, cardiac rehab nurses and staff, physical and occupation therapists, respiratory therapists, nutritionists and social workers.
Acute outpatient rehab
Cardiac Rehab starts shortly after the patient is discharged from the hospital.
The goal is to start within 2 weeks of returning home.
The program meets three times a week for 12 weeks.
Participants are closely monitored with EKG monitoring units while they exercise during the sessions.
Participants and families in the program are provided education on how to identify risk factors for coronary artery disease, how to modify behavior, learn a heart healthy lifestyle and diet, and learn how to safely exercise at a moderate level.
Patients will be taught how to safely exercise with weight training, treadmills, a variety of bicycles, rowing machines and elliptical trainers.
The Cardiac Rehab team works with the patient to make sure that the program moves and advances at a comfortable, safe pace.
Each program is individualized to the participant, working together with the staff to develop the plan.
After staff has determined the patient has a good understanding of how he/she's body feels during moderate level of exercise, and that there have been no significant EKG changes with the patient, the patient may no longer be required to wear the EKG monitor.
Phase 2 is a covered plan under Medicare and most insurance plans. Staff will determine the participant's insurance coverage prior to enrollment into the program.
Outpatient maintenance
Cardiac Rehab may continue with the individualized moderate level exercise program in the Cardiac Rehab gym. The participant has the option to join this program after successfully completing an Acute Outpatient Cardiac Rehab. The maintenance program requires a physician's order to enroll into the program. Maintenance programs are not covered by insurance and is paid for by the patient.