Emergency services
Rapid Response Cardiac Care
If you are experiencing chest pain or any potential cardiac emergency, call 911 or go to the nearest emergency room immediately. And rest assured, if the nearest location is Liberty Hospital, you will be in great hands. Our nationally accredited Chest Pain Center ranks in top 10% of all U.S. hospitals for superior heart attack care and consistently receives top honors for high performance in emergency heart care. We are also a designated Level II Time Critical Diagnosis center in Missouri for trauma, stroke and STEMI (a type of heart attack).
What to expect when you arrive
Triage
When you arrive at the ED, your first stop is triage. The triage nurse will read your vital signs and get a brief history of your concern, past medical problems, medications and allergies.
Registration
Registration obtains your vital statistics and begins your medical chart for your visit.
Diagnosis and treatment
A nurse and physician will ask you for information to formulate the possible causes of your symptoms. More tests may be done. At this point, the emergency physician may also bring in a specialist for a consultation. Depending on the final diagnosis and treatment of your specific medical condition, you either will be admitted to the hospital, discharged or transferred to another specialized facility.
Discharge
If you are discharged, you will receive written discharge instructions. They will explain your medications, other treatments and, if necessary, will include a referral for follow-up care.
Senior-Friendly Accreditation for Liberty Hospital's Emergency Department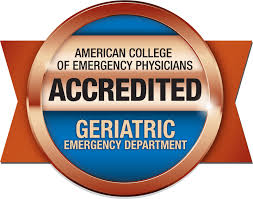 For the second consecutive year, Liberty Hospital's Emergency Department has achieved Level 3 Geriatric Emergency Department Accreditation (GEDA) from the American College of Emergency Physicians (ACEP) by exceeding best practices in caring for older adults. The hospital is one of only four hospitals in the state to earn this certification and the only hospital in Missouri to attain this accreditation as well as that of Level II Time Critical Diagnosis in trauma, stroke and heart attack.
In the media: February 2020 - Featuring Dr. John Owen of Emergency Services - Liberty Hospital earns geriatric emergency medicine accreditation
About our facilities
Patient rooms
Our department consists of 28 patient rooms equipped with the latest technology. Twenty-one of those rooms are monitored, which means they contain the instruments needed to observe a patient's heart rate and vital signs at all times. For patient convenience, each room has a private lavatory.
Arrival by ambulance
For patient comfort, our ambulance bays are enclosed and climate-controlled.
Arrival by helicopter
Our helipad is within steps of the ED, allowing us to receive critically injured patients quickly.
Self-contained trauma radiology
Rather than sharing with other units, our ED houses its own x-ray equipment to speed injury diagnoses. Doctors can view x-ray results from computers right in the ED nurses' stations.