Sports medicine
In addition to adult fitness and sports performance classes, Liberty Hospital Sports Medicine provides physical and occupational therapy for a variety of injuries and conditions and is the premier provider of athletic training services for Northland schools.
Sports performance
Stronger. Faster. Better. Strength and conditioning training to increase athletic performance is a must for all athletes. Each athlete has different areas to address. Working in small groups will give you the individualized attention you need to help you reach your athletic performance goals.
Advanced strength and conditioning program
Our advanced athletic performance program is perfect for advanced high school athletes looking to increase their athletic performance, while reducing the risk of injury. Every session/week will include:
Movement preparation, muscle activation and dynamic flexibility.
Plyometrics and medicine ball training.
Linear and lateral speed, acceleration and change of direction.
Strength training.
General conditioning.
Flexibility training.
Monday through Friday, 3:45 to 5 p.m.
$150/month for an unlimited number of sessions
Strength and conditioning coaches
Developmental strength and conditioning program
Middle school athletes (ages 12 to 15) are at a pivotal point in their athletic development. Focus and drive toward developing a solid work ethic via strength and conditioning training is a must. This program concentrates on developing a solid athletic foundation to help avoid physical limitations or injuries and teach good habits and technique early. Each session will include:
Movement preparation, muscle activation and dynamic flexibility.
Plyometrics and medicine ball training.
Instructional linear and lateral speed, acceleration and change of direction.
Body weight strength training.
Introduction to barbell strength training.
General conditioning.
Flexibility training.
Mondays and Wednesdays, 6 p.m. and 7 p.m.
Tuesdays and Thursdays, 5 p.m., 6 p.m. and 7 p.m.
Saturdays, 8 a.m.
$150/month for an unlimited number of sessions
Team strength and conditioning program
Sport-specific strength, speed and agility training for teams. Contact Adam Long at 816.407.2323 to inquire about your team.
Running/gait analysis
Take the opportunity to improve your distance-running mechanics by utilizing a state of the art gait analysis system, Medical Motion. A physical therapist will evaluate and identify your running stride and help correct any concerns that are diagnosed.
Having a comprehensive gait analysis can help to identify areas of weakness to avoid overuse injuries. Understanding running form can also help you to be a more efficient runner. Whether you are training for a 5K or marathon, it is important to work on your running form in order to stay healthy and compete at your best. Read more.
Specialized training for the overhead athlete
Strength and conditioning programs designed specifically for the overhead athlete (baseball/softball/swimming/volleyball/tennis/track and field). Each session/week will include:
Scapular control and strength training.
Hip and shoulder separation training.
Core training.
Explosive power training.
Generalized strength training.
Conditioning.
Mobility and flexibility.
Monday through Friday, 3:45 to 5 p.m.
Mondays and Wednesdays, 6 to 7 p.m. and 7 to 8 p.m.
Tuesdays and Thursdays, 5 to 6 p.m.
Cost
2x/week = $120/month (8 sessions)
3x/week = $180/month (12 sessions)
8-athlete maximum in each group
Throwing program
Liberty Hospital provides overhand throwing athletes with a unique opportunity to improve their throwing performance and decrease their potential for injury. Part one of our program starts with a full body physical limitation checklist to identify range of motion, strength, posture and balance deficits that may be hindering an athlete's ability to reach his/her maximum potential. Part two utilizes the experience of former collegiate baseball players to analyze throwing mechanics using motion analysis software.
Addressing both the physical and mechanical faults can provide a throwing athlete with a more efficient throwing pattern. This allows the thrower to utilize core muscles more effectively to produce velocity when throwing with less strain to the thrower's arm and body.
Initial visit (90-minute session for $150)
Identification of muscle weakness, ROM restriction and postural deficits, which can impact throwing.
Throwing analysis using motion analysis software to identify throwing faults.
Instruction in an individualized home exercise program.
Instruction in an interval-throwing program.
Individual throwing sessions (60-minute session for $80 after completing evaluation)
Many throwing athletes wish to return for additional visits as their individualized programs progress. Follow-up visits will provide:
Monitoring of current home exercise program for proper performance.
Progression of an athlete's exercises to include more advanced exercises if necessary and appropriate, once initial exercises are mastered.
Continued education and correction of mechanical throwing faults to create muscle memory.
Am I or is my child appropriate for this program?
Providing a throwing athlete with efficient and proper throwing mechanics can help anyone at any age avoid potential injury and maximize throwing performance. Correction of mechanical faults can help build a foundation by developing muscle memory, which can help a throwing athlete for years to come.
If an athlete currently has an injury related to throwing, it is recommended that they see a physician first before proceeding with a throwing program. A physician may wish to pursue physical therapy or other appropriate treatments prior to starting a throwing program.
Will insurance cover this?
No, this is a sports performance program that is for throwing athletes who do not have a current throwing injury and are looking to optimize their performance.
If an athlete has a throwing injury, they will need to pursue a physician order to start physical therapy, which is generally covered by most insurance plans.
Adult fitness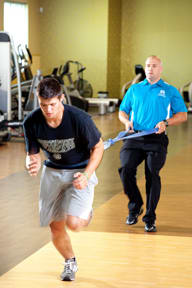 Whether your goal is to lose 20 pounds, increase your overall health or to increase your weekend athletic performance, our staff will guide you on the right path to achieve your goals.
We specialize in:
Overall fitness training.
Strength and conditioning.
Weight loss with nutritional counseling.
Weight gain with nutritional counseling.
Mobility/flexibility training.
Program design.
Small group training aimed to assist our participants in their pursuit to living a healthier lifestyle. Our coaches create individualized programs designed specifically to meet our participants' fitness goals. $150/month for an unlimited number of sessions.
Monday to Friday: 5 a.m., 6 a.m., 9 a.m., noon and 5 p.m.
Tuesdays, Fridays and Saturdays: 7 a.m.
One-on-one training/coaching is available upon request. Dates, times and cost will vary. Please contact Adam Long for more information at 816.407.2323.
Therapy Services
Therapy is available at two convenient locations: at the Sports Medicine facility and at Norterre, located next door to Liberty Hospital.
Orthopaedic rehabilitation
Post-surgical procedures to the spine or extremities
Pelvic health
Certified lymphedema treatment
VitalStim-certified techniques
Myofascial release
Pain management
Post-stroke rehabilitation
With patients ranging from those sustaining sports injuries to those undergoing total knee replacement, our therapists provide a wide array of offerings, such as:
Dry needling
Aquatic therapy
Blood flow restriction
Sports or running injury prevention and rehabilitation
Running/gait analysis
Mobility disorders
Balance issues
Stroke recovery
Multiple sclerosis or other neurological rehabilitation
Orthopaedic rehabilitation
Spine rehabilitation
Fatigue management/cancer rehabilitation
Pain management
Physical Therapists at Sports Medicine:
BJ Maloney, RPT, Supervisor
Matt St. John, DPT
Trent Nichol, DPT
Debbie Bryan, RPT
Debra Hohn, DPT
Pete Trujillo, DPT
Brie Holst, PTA
Physical Therapists at Norterre
Amy Fulte, RPT, Supervisor
Susan Town, RPT
Chris Scott, RPT
Suzanne McCoy, RPT
Jennifer Mackie, RPT
Haleigh Jackson, DPT
Brie Holst, PTA
Director of Rehabilitation Services
Occupational therapy is an important part of getting back into your daily routine after an injury, illness or surgery. To help you get back on your feet, our therapists offer:
Certified hand specialists.
Upper body rehabilitation for issues such as carpal tunnel syndrome, tennis elbow, arthritis, etc.
Therapeutic exercise.
Joint protection education.
Adaptive techniques for daily living.
Stroke recovery.
Orthopaedic rehabilitation.
Orthotics/splinting.
Lymphedema.
Occupational therapists:
Laurie Gray OTR/L, CHT, CLT
Cherie Keogh-Dodge OTR/L, CHT
Our speech-language pathologists can diagnose and treat a variety of communication, cognitive and swallowing disorders that result from the following:
Stroke.
Brain injury.
Head and neck cancer.
Neurological disorders.
Aging process.
Our speech pathologists are VitalStim-certified to aid in the rehabilitation of dysphagia, (swallowing, disorders). In addition, our speech-language pathologists can perform therapies that aid in rehabilitation of a variety of communication and cognitive deficits:
Abstract thinking.
Problem solving/organizational skills.
Deficits of memory.
Vocal issues.
Expressive and receptive—verbal and graphic communication.
Speech language pathologist:
Athletic training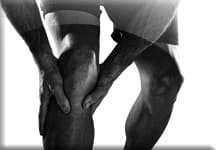 Liberty Hospital Sports Medicine is the premier provider of Athletic Trainers for school districts in the Northland and William Jewell College. For information on how your school can partner with our athletic training services, call 816.407.2322.
Back-to-Athletics injury screenings
Provide injury assessment for any injury sustained by athletes of all ages.
Provide treatment and rehabilitation for athletic injuries.
Assist the athlete by providing medical direction (i.e. recommending a visit to a physician or orthopedic specialist) for the injury.
Great service for those who have high-deductible insurance policies.
Services are available for physical therapy patients who no longer are eligible or qualify for physical therapy due to insurance constraints.
Services are $25 per visit (can pay by cash, check or credit card). For more information, call 816.407.2322.
Patient forms
In the media: August 2020 -- Featuring Jared Hanson of Liberty Hospital Sports Medicine
Student-athletes, community benefit from professional athletic trainers on sidelines
Concussion Management Program
Any injury to the head is a serious issue. Getting an early diagnosis and receiving the proper treatment is essential to resuming a normal life. The reality is anyone—not only athletes—can sustain a concussion.
Liberty Hospital Sports Medicine believes the best approach to manage and rehabilitate a concussion is through an individualized treatment plan based on the patient's specific needs and goals. Our team approach to the management and treatment of a concussion allows the patient/athlete a safe and efficient return to activities and/or sport.
Our certified athletic trainers are trained in concussion management and provide services in the Concussion Management Program. Our athletic trainers also having training in ImPACT testing.