Surgery
Our team is here to help you prepare for all of your general surgery needs.
Meet our general surgeons available at The Surgeons Clinic
Pre-surgical testing
Patients scheduled for inpatient or outpatient surgery at Liberty Hospital will be asked to visit the pre-surgical testing department 1 to 14 days before their procedure. The department features spacious rooms that recently have been renovated to accommodate patient needs.
The primary reason behind pre-surgical testing is patient safety. During the appointment, the patient and doctors can discuss the patient's health history as well as any issues that might have an impact on the type of anesthesia used. This ensures that the patient's healthcare team is aware of any potential issues that could prevent or cause a problem with the scheduled procedure.
During the pre-surgical testing visit, all of the healthcare professionals involved in the patient's care come to the patient in the pre-surgical testing department. During this visit, patients typically:
Speak to an anesthesiologist.
Speak to a nurse about health history.
Have any blood or diagnostic tests ordered by the physician performed.
Receive specific instructions to prepare for surgery.
Receive specific instructions on exercises and therapies for after surgery.
Learn what to expect while staying at the hospital.
Liberty Hospital also encourages patients to formalize a plan of care, including healthcare treatment directives, so that family members and caregivers can honor their wishes. If the patient does not have these documents, the hospital will assist the patient in completing them.
Ultimately, the goal of pre-surgical testing is to detect and resolve any possible health problems so that all goes smoothly the day of surgery.
How to prepare for surgery
Patients can help make their stay at Liberty Hospital go smoothly when they are prepared. Here's what to bring if you are scheduled for surgery:
Family and friends—it helps to have someone along who can take notes and help you remember instructions and suggestions.
A list of questions for your providers.
A list of medications and supplements you take, or bring the medications and supplements themselves.
A list of past surgeries or medical procedures, why they were performed and the dates.
A healthcare treatment directive and durable power of attorney for healthcare, if you have one. If you don't, Liberty Hospital staff will help you complete one.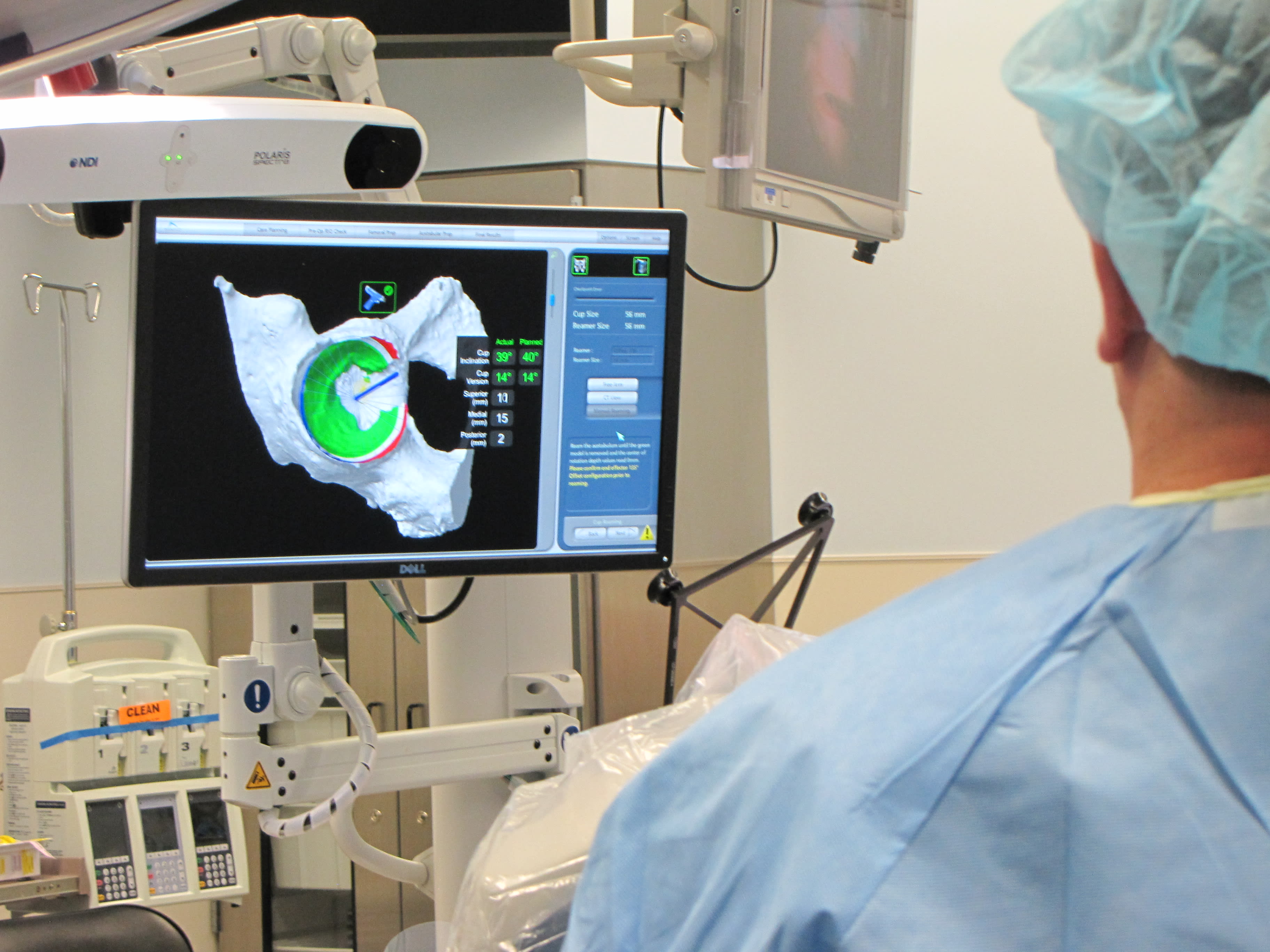 If you or a loved one has been diagnosed with a condition that may require surgery, you owe it to yourself to learn about all of your medical options, including the most effective, least invasive surgical treatments available.
The da Vinci® Surgical System provides our surgeons with an alternative to both traditional open surgery and conventional laparoscopy, putting a surgeon's hands at the controls of a state-of-the-art robotic platform. The da Vinci system enables surgeons to perform even the most complex and delicate procedures through very small incisions with unmatched precision.
Using the robot, the surgeon is seated at a console viewing a 3-D image of the surgical field. The surgeon's fingers grasp the master controls, and the system seamlessly translates the surgeon's hand, wrist and finger movements into precise, real-time movements of surgical instruments inside the patient. Using a high-powered camera, the surgeon guides the robot's "hands" into four dime-sized incisions.
Patient benefits include:
Significantly less pain.
Less blood loss.
Less scarring.
Shorter recovery time.
A faster return to normal daily activities.
Procedures
Colon surgery - Learn more at the da Vinci surgical robot website.
Laparoscopic hysterectomy - Some reasons a hysterectomy may be needed include:
Uterine fibroids.
Endometriosis.
Pelvic support problems, such as uterine prolapse.
Abnormal uterine bleeding.
Cancer.
Chronic pelvic pain.
Lung/thoracic surgery - Liberty Hospital offers a trained surgical team for robotic lung surgery using the da Vinci Surgical System. Benefits of this minimally invasive surgery include reduced chest tube duration, lower risk of complications and wound infections, less blood loss, less pain and shorter hospital stays. Robotic patients leave the hospital sooner with less pain and return to work or chemotherapy sessions sooner as compared to open-surgery patients. The outcomes are better than standard open procedures, and there is much less trauma to the body. Robotic are associated with a 70% lower risk of overall post-op complications. Learn more about Liberty Cardiothoracic Surgeons.
Prostatectomy - Facing any kind of urologic surgery creates a great deal of anxiety for most men. A major concern is: "Will my body function normally following surgery?" Traditional open urologic surgery—in which large incisions are made to access the pelvic organs—has been the standard approach when surgery is necessary. Yet common drawbacks of this procedure include significant post-surgical pain, a lengthy recovery and an unpredictable, potentially long-term impact on continence and sexual function.
The da Vinci Surgerical System, a minimally invasive approach that utilizes the latest in surgical and robotics technologies, is ideal for delicate urologic surgery. This includes prostatectomy, in which the target site is not only tightly confined but also surrounded by nerves affecting urinary control and sexual function.
Orthopaedic surgery
Partial knee with MAKO.
Total hip with MAKO.
Total joint replacements.
Shoulder replacements.
Hand surgery.
Other procedures
Robotic-assisted laparoscopic pyeloplasty (plastic surgery on the kidney).
Robotic-assisted laparoscopic partial nephrectomy (removal of part of a diseased kidney).
Rehabilitation
Following surgery, Liberty Hospital offers a full complement of inpatient and outpatient rehabilitation care to help patients recover from surgery. Inpatient rehabilitation occurs with physical and occupational therapists during a patient's stay in the hospital. Outpatient rehabilitation occurs at Liberty Hospital Sports Medicine, where physical and occupational therapists help patients continue their recovery.
While clinical studies support the effectiveness of the da Vinci® system when used in minimally invasive surgery, individual results may vary. Surgery with the da Vinci system may not be appropriate for every individual. Always ask your doctor about all treatment options as well as their risks and benefits. For additional information on minimally invasive surgery with the da Vinci® system, visit davincisurgery.com.